Client: Conlon Construction Ltd
Size: 1500m2
Project: North Cestrian School
Product: Sika Sarnafil
About the Project:
The North Cestrian School project was a £6.1M new build and refurbishment program. This involved overlaying an existing roof and installing a new roof, totaling 1500m2. This project was part of a larger school refurbishment and construction project, with a new section of the school being built, including a new reception, three-storey science block, and kitchen and dining area.
Key challenges:
This project had some key challenges that we needed to overcome.
Before we could begin the installation, we needed to test the existing roof, to make sure that this was in a good condition and would provide a solid and safe foundation for an overlay.
As this project was part of a school refurbishment and construction project, it was a complex build. One of the unique challenges for overlaying the roof on existing 'live' classrooms was the need to ensure any disruption to pupils' learning was minimal. Of course, we also needed to maintain our exceptionally high safety standards at all times, especially as the school playground was directly underneath.
At the end of each day, we needed to ensure that all the waste materials were removed from the roof and skipped.
The System:
For the overlay roof and the new construction section, we opted for a 120mm insulation board and a Sarnavap 500e for the vapour control layer. This is the perfect choice for flat roofs, as the Sarnavap 500e offers low temperature flexibility, and a constant, high performance, vapour resistance.
For the single ply membrane on the overlay roof, we installed the Sarnafil G410-15ELF. This is fleece backed membrane that can hide any surface imperfections and irregularities effectively, while providing a high level of protection, making this the perfect choice for a roof overlay project.
For the new construction section of this roof, we used a Sarnafil G410-20EL single ply membrane. This is a high quality, PVC based waterproof membrane that offers UV resistance and is designed with high reflectance properties to ensure roof cooling. It is also resistant to all common environmental influences, to be sure that this newly constructed roof will have exceptional longevity.
We used a fully adhered roof system to ensure the safety and longevity of the roof. This was a better option than mechanical fastenings, as these can be problematic on roofing overlays, and a fully adhered system also offers a high quality visual appeal too.
To complete the project we installed an attractive trim finish to the parapet.
The Result:
At the end of this project:
The construction was completed ahead of schedule to a high standard, showing excellent quality of workmanship
We were commended for our high standards and professionalism at all times, as well as our ability to work safely on a 'live' school construction site, safely navigating all the risks and problems associated with this
The roof was tested, and electronically tested, and all of the manufacturer requirements for a 20 year guarantee were met
Our client was very impressed with our professionalism and the quality of our workmanship, and would recommend us and our work to anyone.
 Before: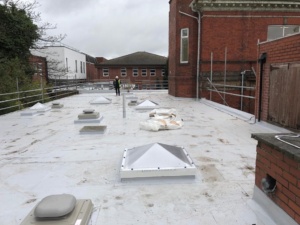 After: